Connecting marketing activity with marketing outcomes has always been high on the marketer's agenda. But, in a world of increasing marketing complexity, sophisticated customer journeys, and increasing pressure to justify every marketing move, effective attribution is critical.

QueryClick gives us some key reasons why attribution matters more than ever before…

The sheer scale of media spend demands it

The sheer scale of current investment in marketing underlines the importance of attribution. In the UK alone marketing spend will top £21.3 billion in 2020, and digital is a growing part of the mix. By 2021, the volume of data in silos involved in delivering just digital marketing will have increased in complexity 32-fold compared to a decade previously.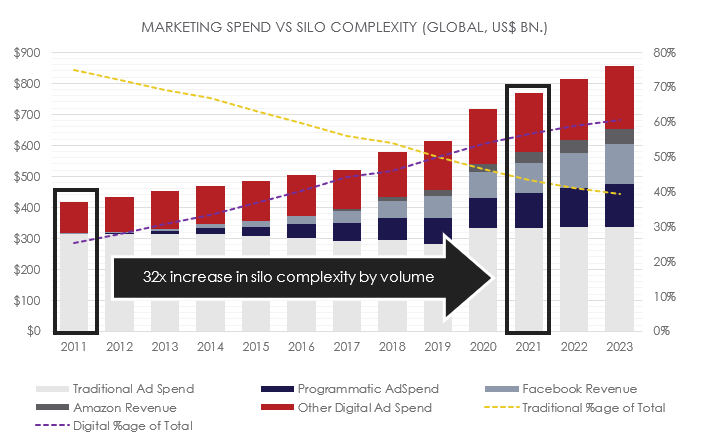 SOURCE: EMARKETER GLOBAL DIGITAL MARKETING REPORT & STATISTICS.
The figures are staggering and, as a result, many businesses are struggling to sustain growth while maintaining or reducing media spend. Which makes solving attribution the largest opportunity any marketer can engage with today.

Ensuring you keep full control over the nature of marketing spend

Marketing doesn't operate in a vacuum. It typically operates with the support and trust of a group of stakeholders that includes the boardroom, finance and, perhaps most importantly, sales.

Providing accountability for the investments you make in marketing is key to proving your value to the business and building stakeholder trust. It's also essential for securing the buy-in needed to support your marketing vision and keep control of marketing spend.

This is proving challenging for many businesses. Not only is there broad evidence that internal stakeholder pressure on spend – from outside of marketing – is increasing, but there are also worrying signs that it is directly influencing the nature of spend.

In fact, research carried out by QueryClick points to the fact that 67.5 per cent of Marketing Directors report that internal stakeholder pressure actively restricts the option to employ marketing activity with longer-term payback.

This is why attribution matters – accurate data provides the means to push back.

Improve your marketing ROI

If you don't have effective marketing attribution in place, then it's a safe bet you don't know what is – and what isn't – working across your marketing mix. So accurately assessing and improving "true" marketing performance isn't really possible for you.

Delivering effective attribution can be challenging. There is a wide array of attribution models to choose from, and very often real challenges around the quality and complexity of data that is available to you. However, advances in data modelling, machine learning, and the emergence of leading attribution platforms mean you can access the type of sophisticated attribution data that your marketing demands – at the level of channel, campaign, and even individual impressions.

This data can, and should, be used to accurately assess and target incremental growth activity that drives your marketing ROI. 
Unbundle data from social networks
Social networks and paid ads have become a key part of growth strategies. But "off-the-shelf" attribution solutions have a hard time getting access to the data from these channels.
Social networks operate in "walled gardens" – meaning that the data held by the likes of Facebook is siloed off from other analytics platforms, resulting in flawed data reports that prevent you from getting a real understanding of the value.

Chris Liversidge, CEO of QueryClick, will be at our Virtual Digital Marketing Summit on 27th – 29th January, where he will be presenting: Unbundling Google Ads and Facebook for Successful Marketing Attribution in 2021. Click here to register for the event.